Your Membership to a World of Competition
---
We are proud to announce the Golf Sim Tour™. Utilizing the ultimate simulator software, E6 Golf, the Golf Sim Tour™ will bring golf competition to a new level. We create and promote great golf simulator events, contests, and tournaments in the cloud! This allows you to compete on any compatible simulator* with other golfers from all over the world! Plus, our competitive framework gives you the chance to win prizes and awards.
The renowned E6 Golf software that is known for its beautiful state of the art graphics and realistic physics is now available on Golf Simulator systems via streaming for a low monthly cost. Commercial golf owners now have a revolutionary new business model that provides a cost-effective way for best-in-class software and competition. This is all delivered via the E6 Cloud directly to your facility with the newest updates and content sent automatically.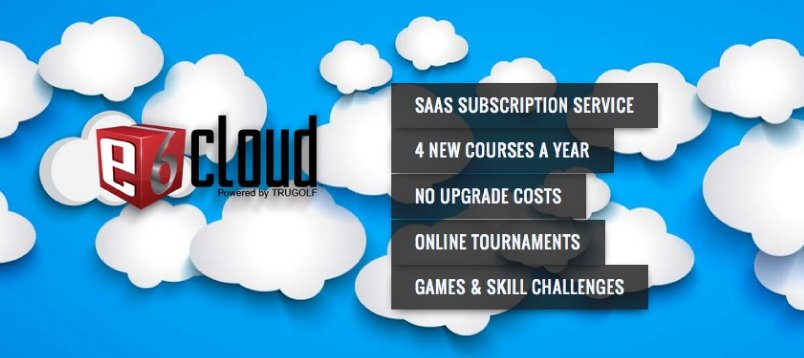 Using the E6 Cloud will save facilities thousands of dollars in upgrade costs by streaming the latest technology and most simulator systens won't require hardware upgrades — contact us to learn more about this. E6 and the Golf Sim Tour™ will revolutionize the game of golf by bringing it into the realm of online social gaming. Players can track personal progress, post memorable shots, get instant feedback about their game, challenge others around the globe to a game of golf or even take an online lessons from a golf pro, all through the power of this exciting new breakthrough.
E6 and the Golf Sim Tour™, will also provide the framework for online worldwide tournaments which will provide player rankings, cash prizes and other incentives for participants. Indoor facilities can now join or host online long drive tournaments, closest to the pin contests, power hole competitions and more — all for real world prizes from our sponsors. Your indoor golf facility is now an even more powerful revenue opportunity providing your customers with the world's best golf software and best online tournaments year-round. If you like the sound of this, contact us to stay in the loop of upcoming developments.

E6 and the Golf Sim Tour™ reaches players worldwide which is why many of the largest companies are excited about becoming tournament sponsors. These corporate partnerships give golf centers access to highly targeted marketing and advertising opportunities. E6 already has players all over the world and the advertising reach will have the ability to expand your customer base.
We've all seen the research that golf is losing favor among younger generations. E6 seeks to change this by providing variations of golf that incorporates exciting elements of popular console games including titles such as Demolition Driving Range, Darts, Hunter, Ringshot, and Horse. A major driving range company has had great success offering players new ways like these to compete and socialize. E6 Cloud offers the same concept for your indoor facility. These new variations will bring a wider range of demographics and make it more appealing to the whole family.


E6 and the Golf Sim Tour™ can provide the connectivity younger generations love while making it easier and more enjoyable. E6 makes the fundamentals of the game more engaging with an "Easy Golf" feature that eliminates slice and hook, boosts power and makes putting easier by increasing the size of the hole. Novice players will have less frustration while they improve their game. E6 is also a fantastic teaching tool which gives teachers and students accurate feedback while simultaneously tracking improvements and progress.
The new E6 Cloud delivery system has been designed specifically to increase playing enjoyment and also to greatly increase the profitability of your facility. Contact us to learn what E6 and the Golf Sim Tour™ can do for you.